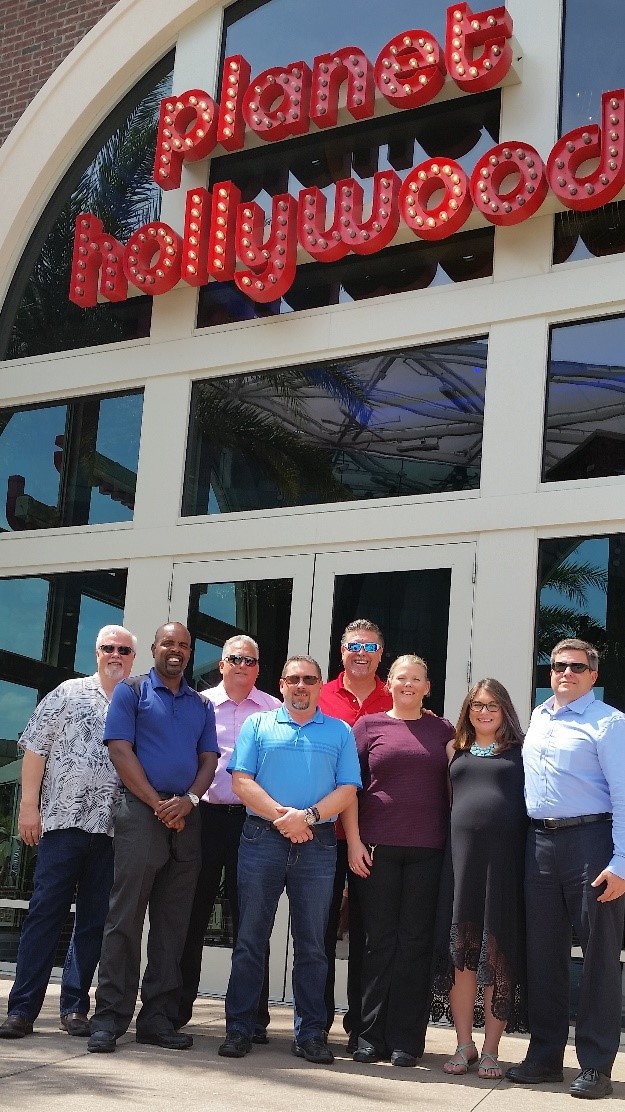 Planet Hollywood (PH) launches RTC's next generation store system StoreMobile POS at the grand re-opening of their flagship location, Planet Hollywood Observatory at Disney Springs.  The RTC team was on hand to celebrate the accomplishment with Rich Olgee Vice President Corporate Controller at PH, Steve Gargano Director of Internal Controls at PH, Michelle Marr Retail Manager PH, Tiffany Seidule Controller at PH, Bruce Hicks President RTC, Brian McWhirter VP Store Systems RTC, Jeff Cook Director of Store Systems RTC and Lee Williams Marketing Manager RTC.
The Observatory store launch completes the chain wide store systems upgrade initiative, replacing all old hardware and their old Micros POS System with new NCR registers running RTC's latest StoreMobile POS and Inventory Application.
"Planet is now running a full retail Point of Sale system which is fully integrated back to JDA® MMS®, and provides all the latest mobile features and advanced pricing functionality that today's customers are looking for," says Jeff Cook, RTC Director Store Systems Operations.
"After twenty years of running the Planet Hollywood stores under a hospitality POS system, Planet is now realizing the full benefits of a state of the art retail specific POS system in all Planet stores and the proof is in the reduction in inventory shrink which has been reduced measurably" says Bruce Hicks, President of RTC.
Armed with Apple iPods and Honeywell sleds, StoreMobile POS/Inventory allows Planet associates to have complete control of their retail operation including real time visibility of all retail inventory regardless of the location it resides in including the warehouse,  "on order" and "in transit" inventory.  In addition, inventory can be viewed on any PC, phone or mobile device logged onto the Planet Hollywood network both in the store, at the corporate office or from a mobile device in any physical location.